Slip Bowls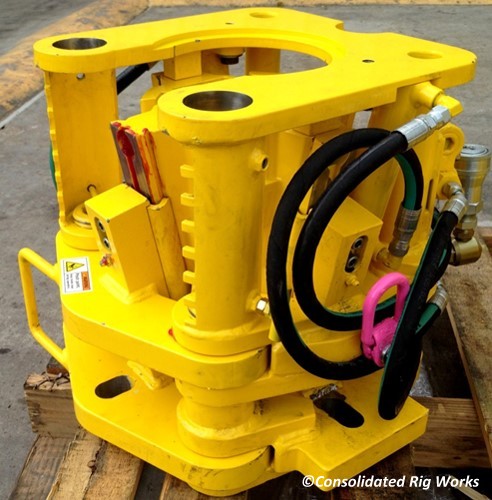 3.5/150K High Capacity Slip Bowl
Specifications
Rated load: 150,000 lbs.
Designed and tested in compliance with API-8C (factor-of-safety rating 1.5:1)
Cast carriers with replaceable dovetail slide plates
Overall dimensions: 16 ½" wide x 18" length x 16" high
Weight: approx. 315 lbs. less inserts
Stationary mounting: 2 ea. 1-1/8" holes @ 180 deg. on 13-1/4″ DBC
Traveling bowl mount pattern: 1-1/8" Tie rod hole pattern: 4 ea equally spaced on 14" DBC (approx. 9.9" x 9.9")
Gate pin dims:  2" diameter
Insert max: 3-1/2" dia.
Tie rod size: 1-1/8" diameter
Gate opening: 6-1/4"
Max open dia. less inserts: 5-3/8"
Normal operating pressure: 600-1500 psi
Cross port relief valve
Hose connections: 3/4" quick disconnects
Proof load tested to 1-1/2 times max load rating (225,000 lbs)
Critical parts will be (NDE) inspected after testing.
Slip bowls will be stamped and numbered per customer request.
Slip bowls will be sandblasted; zinc primed, and painted 1 color of customer choice.
Top plate machined to accept (optional) guide rings
Optional Components
Optional guide rings
Optional pipe inserts (pipe dies)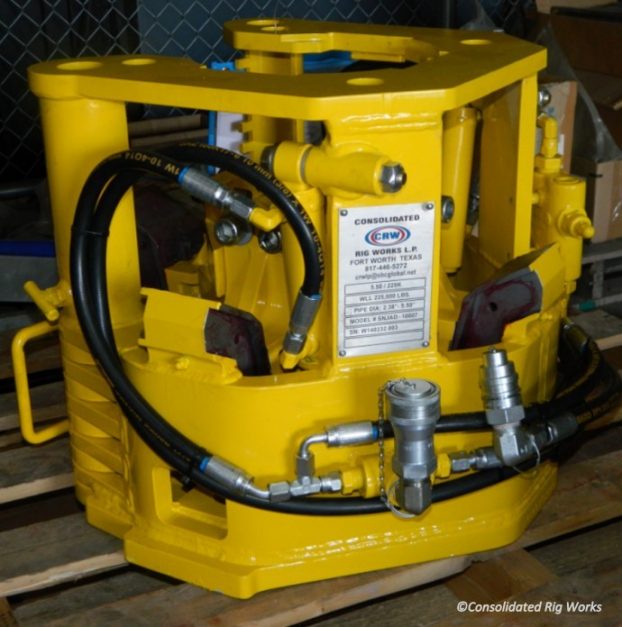 5.5/225K High Capacity Slip Bowl
Specifications
Rated load: 225,000 lbs.
Designed and tested in compliance with API-8C, with factor-of-safety rating of 1.5:1
Cast carriers with keyway slots
Full opening
Overall dimensions: 22" wide x 21" length x 18-3/8"high
Weight: approx. 550 lbs. less inserts
Traveling bowl mount pattern: 1-1/8" Tie rod hole pattern: 4 ea equally spaced on 14" DBC (approx. 9.9" x 9.9")
Gate pin dims: 13-1/8" center to center of gate pins
Insert max: 5-1/2" dia.
Tie rod size: 1-1/8" diameter
Gate opening: 6-5/8"
Max open dia. w/out inserts: 8-3/8"
Normal operating pressure: 600-1500 psi
Cross port relief valve
Hose connections: 3/4" quick disconnects
Proof load tested to 1-1/2 times max load rating (337,500 lbs)
Critical parts will be NDE inspected after testing.
Slip bowls will be stamped and numbered per customer request.
Slip bowls will be sandblasted; zinc primed, and painted 1 color of customer choice.
Top plate machined to accept (optional) 2 piece guide rings
Optional Components
Optional two piece guide rings
Optional insert adapters (piggybacks) for smaller pipe sizes
Optional pipe inserts (pipe dies)
7.06/300K Full Bore Slip Bowl
Specifications
Rated load: 300,000 lbs.
Designed and tested in compliance with API-8C, with factor-of-safety rating of 3:1
Cast carriers with replaceable slide plates
Overall dimensions: 14" wide x 19-1/2" length x 18-1/4"high
Weight: approx. 480 lbs. less inserts
Stationary mounting: 2 ea. 1″ bolts @ 180 deg. on 16-1/4″ BC
Traveling bowl mount pattern: 1-1/8" Tie rod hole pattern: 4 ea equally spaced on 14" DBC (approx. 9.9" x 9.9")
Standard insert max: 3-1/2" dia.
Custom insert max: up to 5-1/2″ dia.
Tie rod size: 1-1/8" diameter
Max open dia. 7-1/16"
Normal operating pressure: 600-1500 psi
Hose connections: 3/4" quick disconnects
Proof load tested to 1-1/2 times max load rating (450,000 lbs)
Critical parts will be NDE inspected after testing.
Slip bowls will be stamped and numbered per customer request.
Slip bowls will be sandblasted; zinc primed, and painted 1 color of customer choice.
Top plate machined to accept (optional) 2 piece guide rings
Optional Components
Optional two piece guide rings
Optional pipe inserts (pipe dies)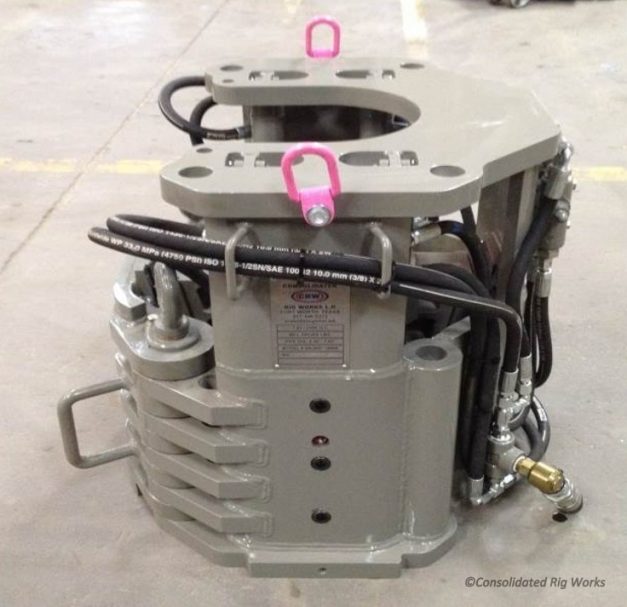 7.63/340K High Capacity Slip Bowl
Specifications
Rated load: 340,000 lbs.
Designed and tested in compliance with API-8C, with factor-of-safety rating of 1.5:1
Cast carriers with keyway slots
Standard opening (not full opening)
2 ea. swivel lift eyes (for handling)
Overall dimensions: 24-1/2" wide x 22-13/16" long x 23-3/4" high
Weight: approx. 1082 lbs. less inserts
Tie rod hole pattern: 18-1/16" width x 10-3/4" length
Gate pin dims: 13-11/16" center to center of gate pins
Insert max: 7-5/8"
Tie rod size: 1-1/4" diameter
Gate opening: 9-3/16"
Max opening w/out inserts: 9-13/16"
Normal operating pressure: 600-1500 psi
Cross port relief valve
Hose connections: 3/4" quick disconnects
Proof load tested to 1.75 times max load rating (595,000 lbs)
Critical parts will be NDE inspected after load testing.
Slip bowls will be stamped and numbered per customer request.
Slip bowls will be sandblasted, zinc primed, and painted 1 color of customer choice
Top plate drilled to accept (optional) 2 piece guide rings
Optional Components
Optional two piece guide rings
Optional insert adapters (piggybacks) for smaller pipe sizes
Optional pipe inserts (pipe dies)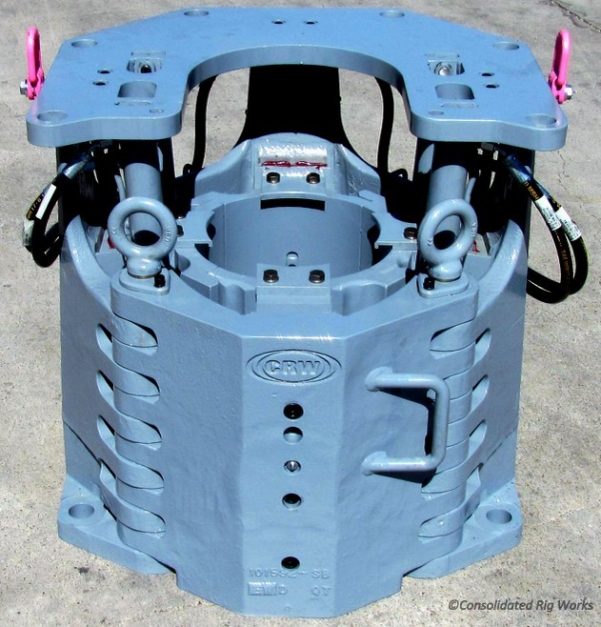 7.63, 9.63 or 10.75/600K High Capacity Slip Bowl
Specifications
Rated load: 600,000 lbs.
Designed and tested per API-8C with an improves factor-of-safety of 2.67:1
Cast gate and housing
Cast carriers with keyway slots (option of either 7.63", 9.63" or 10.75")
Standard opening (not full opening)
2 ea. swivel lift eyes (for handling)
Overall dimensions: 28" wide x 28" deep x 26‐5/8" tall
Weight: approx.: 2,000 lbs. less inserts
Mounting bolt hole pattern: 12‐1/2" x 25‐1/4" rect. + 2 holes at 12.63 x 12.5
Mounting bolt dia. 1‐1/2"
Tie rods must be used in traveling snubbing operations
Gate pin dia. 1‐3/4"
Tubing size range: 8-5/8" and 9‐5/8"
Tubing size range with 

optional

insert adapters: 2-3/8″ through 7-5/8″
Max opening w/out inserts: carrier 9.63"/opening 10.5"
Normal operating pressure: 600‐1500 psi
Cross port relief valve
Hose connections: 3/4" quick disconnects
Proof load tested to 1.5 times max load rating (900,000 lbs.)
Critical parts NDE inspected after testing.
Slip bowls will be stamped and numbered per customer request.
Slip bowls will be sandblasted, zinc primed, and painted 1 color of customer choice
Top plate drilled to accept (optional) 2 piece guide rings
Optional Components
Optional two piece guide rings
Optional insert adapters (piggybacks) for smaller pipe sizes
Optional pipe inserts (pipe dies)
NOTES ON CRW SLIP BOWLS:
CRW slip bowls are engineered to have an improved safety factor rating.
CRW slip bowls are designed to be in compliance with API-8C, with exceptions.
CRW slip bowls are delivered with complete material traceability data books.
CRW issues a Certificate of Compliance (COC) for each slip bowl that states the compliance to API-8C and all associated exceptions.
CRW slip bowl designs undergo an independent design review by Bureau Veritas (BV) and have an associated Independent Review Certificate (IRC) issued by (BV).
CRW slip bowls are proof loaded and completely function tested prior to shipment.
Each slip bowl is certified to be sound through MAG-particle inspection after being proof loaded.